American Bully Style
American Pit Bull Terriers
We are Proud to Own and Raise True Standard American Bully Style American Pit Bull Terriers. Our Dogs are True Companions and Extremely Devoted Dogs, that are included in all of the Daily Activities including being out with the Horses.
All of our Bullies are Double Registered thru Both the UKC (Purple Ribbon Bred) and ABKC.
Quality Foundation Pedigrees with Temperament and Disposition as our #1 Priority.
Our Bullies are True Family Members and Wonderful Family Companions.
Our Puppies and Dogs are NOT kept locked up in Kennels, they are House Dogs, that are with the Family and enjoy going outside and doing daily activities with us and being with the horses, and when the evening comes they settle in and are inside the home to sleep at night.

Our Founding Stud Dog is
"Holmes Classic Dallas"
a.k.a. "Dallas"
UKC & ABKC Registered
*Dallas is Recognized and an Earner of the Canine Good Citizen Award*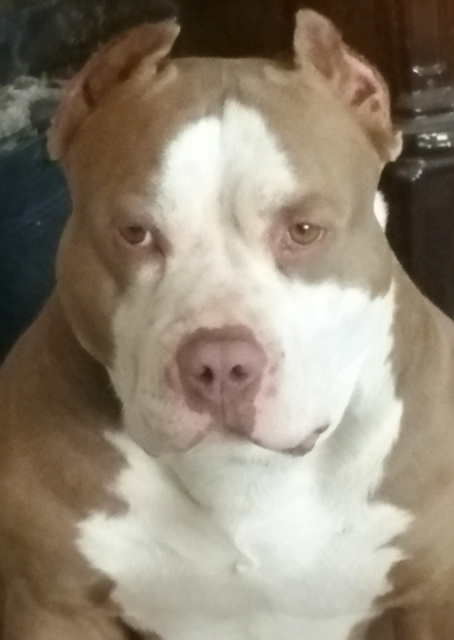 Dallas is a Quality Example of a True Quality Standard American Bully.
Standing at Stud to Limited Approved Females (Registered Only).
**Proud to Announce we had an Awesome Litter of 9 Puppies that were Born July 12, 2017**
Sire: "Holmes Classic Dallas"
Dam: "Lola Blue"
4 Males
5 Females
This is a Very Nice Breeding with Heavy Bloodlines of Kurupt along with Miagi, Kingpinline Marcello, Terminator and More.
Foundation Style, Look, Quality, Stockiness and Temperament are all over this Beautiful Litter.

(Newborn Photos - July 12, 2017)
**Individual Prices of Each Pup are Listed Below**
Select pup(s) will be Sold under a Spay/Neuter Contract only.
Air Shipping or Ground Shipping and/or Ear Clipping is Available at an additional cost, which is to be paid by the Puppy Buyer.
(Air Shipping within the United States is approx. $400, this includes the Air Flight, Crate and Veterinarian Health Certificate)
Cost maybe slightly higher to cover the fuel and travel time if it is better for the puppy to fly out of Portland International Airport versus the Local Medford International Airport (such as less layovers, stops, etc.)
All Puppies will be both UKC and ABKC registered. Our Puppies are Raised in a Home environment, and they receive daily attention and interaction, they are socialized and taught all the basics that a puppy of their current age should know.
Puppies are weighed on a regular bases to keep track of their growth and development. We start a Regular de-worming schedule for the puppies starting at 2 weeks old, and we give all age appropriate vaccinations. We Feed a Quality Grain Free Food, along with a Daily Puppy Vitamin.
Our Puppies are Healthy and Happy.
All Puppies will go to their New Homes with their UKC Application for Registration, their ABKC Application for Registration, Veterinarian record that they have been seen recently, a detailed record showing that they are current on their wormings with the type of wormer and date it was given and also a record of the date and type/label of the vaccination(s) they have received, a information sheet of their growth/weight since birth, a 20# Bag of the Puppy Food that they are currently being fed along with a bottle of Puppy Vitamins, we also include some Puppy Treats, Toys, etc.
We want all Puppies to be able to make the adjustment into their New homes as Stress Free as Possible.
Puppies will NOT be allowed to go to their New home any earlier than 8 weeks of Age. But we do Welcome Buyers to Come out to our Home and Visit their Puppy at any time.

All Puppies were marked at Birth with a ribbon color for identification and record keeping purposes. As they have gotten bigger to the point where we can identify and tell each one apart we have given them names for easy reference.
Their New Owners are Absolutely Welcome to Change their Call Name or go ahead and keep their existing name as they wish.
We do Require as part of their UKC & ABKC Registration that all Pups carry the prefix of "HOLMES" on their registered name.

The Listing below references each ones name and their status as being Available or Sold.
Once a Signed Contract and Purchase Deposit has been Received we will mark that pup as Sold.
(If next to the pups name it is NOT marked as Sold or Pending, then that pup is still available)
Males Females
"Grumpy" (Sells under Neuter Contract Only) $700 "Char" (Sells under Spay Contract Only) $700
"Ott" **SOLD** "Miss Chloe" **SOLD**
"Spanky" **SOLD** "Meka" - $1250
"Blue Jeans" **SOLD** "Miss Makeup" **SOLD**
"Big Girl" **SOLD**

A Huge THANK YOU goes out to all the Wonderful Families that have Opened their Hearts and their Home to one of our Puppies.
We have had the Pleasure to Place our puppies in Amazing homes all Across this Great Country.

If you are Possibly Interested in a Puppy from our Current Litter, Please feel free to Contact us Directly with any Questions or for More Information.
If your Local we are happy to schedule a appointment for you to come see the puppies in person and to also see and meet both their Dad and Mom.
(541) 582-6531
**Regarding Puppy Deposits**
We feel to be fair to everyone, we do not take any deposits on our Puppies until AFTER they are Born.
What we do instead, is we have a "Interested Waiting List" and once the Puppies are born, and we have a tally of how many Females/Males etc. are available, we contact all of the Interested Individuals on our Waiting List, and let them know what we have and what is available.
At that time is when we open up the Opportunity for Interested Buyers to place purchase deposits on puppies, according to Pick of puppy.

We will also update our Website with Photos and Pick List with which puppies have been sold or which puppies are still available.
If you are Possibly Interested in a Puppy from a current litter or one of our Planned Upcoming Litters, Please let us know and we will be Happy to add you to our "Interested Waiting List".

Please Call (541) 582-6531