Puppy Toy Gym
**Lots and Lots of Photos so Please be Patient while they load**
Here at Holmes Ranch, for our American Bullies, we have designed a Puppy Toy Gym, and it has been such a Wonderful Asset to have with the puppies, that we have decided to offer other Owners and Breeders of ANY Breed the Opportunity to add a Puppy Toy Gym to their household/kennel.
Breeders, Puppy/Dog Owners, Rescue Organizations and others all Understand and know the Importance of Raising Stable, Well Adjusted and Confident Puppies. Exposing the puppies to many different sounds, textures and movements during their early weeks will give them a Great Head Start in Life.
The Puppy Toy Gym is Wonderful for Early Neurological Development and Stimulation and offers Early Socialization, Sensory Stimulation, Interactive Play and the Exploration for Young Puppies. The Variety of toys and items rattle, squeak and move around.
It helps to Desensitize puppies to Movements, Noises and Textures. Puppies Learn to become Bold and Fearless by Introducing them to all of the toys and items on the Puppy Toy Gym and these are lessons learned that will help them throughout their lifetime.
Keep your puppies Entertained for Hours, but most importantly they will also be learning at the same time!!
As shown the Puppy Toy Gym has 17 plus different toys and objects on it. It measures at the widest points is approx. 25 1/2" x 35" x 27 1/2" tall.
We can also make a smaller version or a size specific one can also be Special made for the little breeds or any special needs and/or requests. (Price to be determined on request)
It can be easily dis-assembled and re-assembled in less than a minute, which makes it Wonderful for transportation of it and storage of it when not in use.
Made locally here in Southern Oregon (Rogue River), add a Puppy Toy Gym to your house and watch the puppies have fun, this is Wonderful for both young and old ones.
As shown the Puppy Toy Gyms Price is $140.00 for Light Pipe and $150.00 for Heavy Pipe.
Cash only when picked up in Rogue River, Oregon.
The optional upgrade to a heavier wall/thickness of pipe is available for an extra $10 ($150.00).
If heavier pipe is selected Please be aware that the cost for shipping if needed will increase due to the weight.
All Pipe is White in color, but we offer the selection of White, Red and Green Chain, you may choose 1 color or mix and match with 2 or 3 of the different colors of chain.
The Optional Purchase of the following items are available.
Rubber Mallet - $2
Clear Storage Box - $10
For Long Distance Customers we can accept payment thru Zelle (No fee) or PayPal (add 4% fee), Money Order or another approved payment source and we can also arrange shipping the Puppy Toy Gym at an additional fee.

Any and all Shipping costs are the full responsibility of the buyer. Shipping Insurance is not included, if you wish to purchase Optional Shipping Insurance on the package, Please notify us and we will calculate the shipping price with that cost included in.
All Puppy Toy Gyms are Specifically made to your specifications and it will be ready for pickup in person or it will be ready to ship out within 24-48 hours from the time they are ordered.

Please Call for More Information
(541) 582-6531

**The Availability and Selection of Toys and items may and will vary from what is pictured, but we will be Happy to try and Accommodate any Special Requests, colors, etc. on a case by case base**
**Please scroll down to see some of the different Puppy Toy Gyms that we have made, showing the variety and selection of toys, colors, etc.**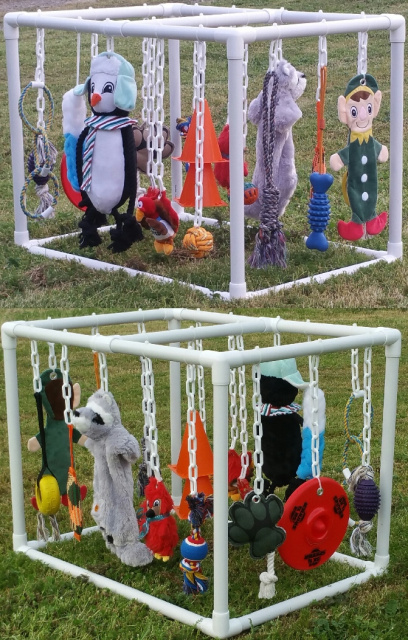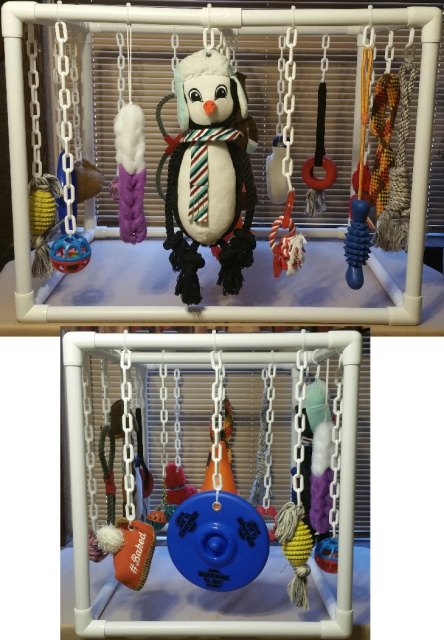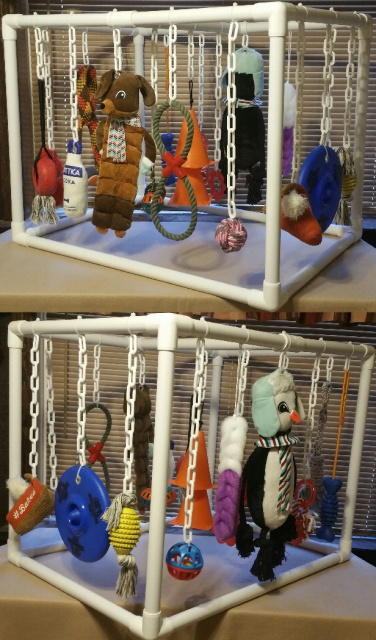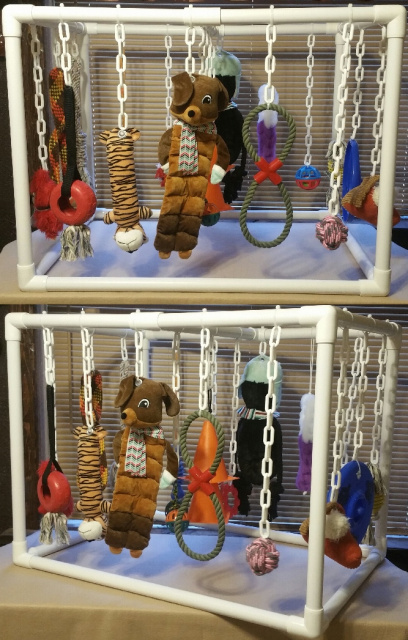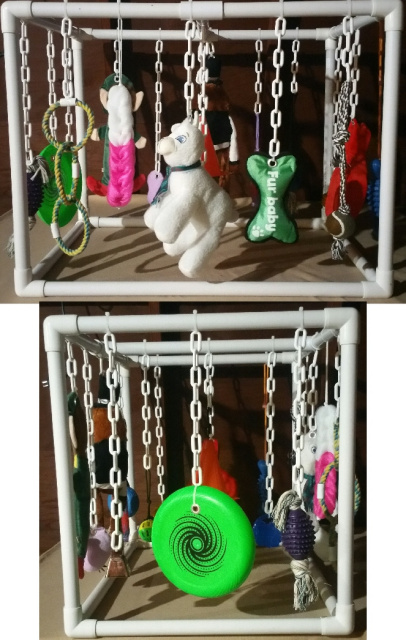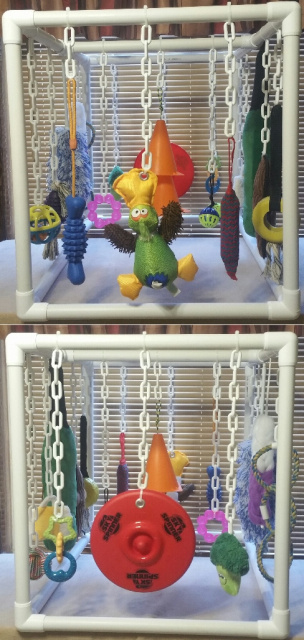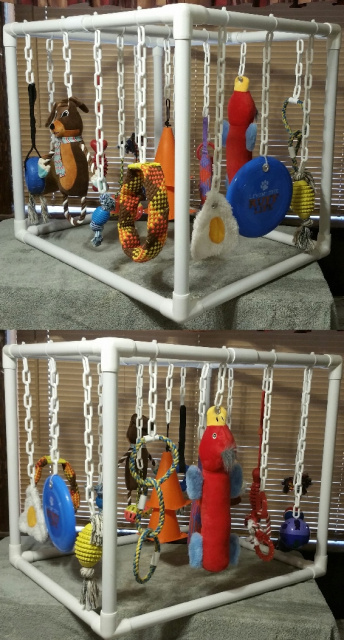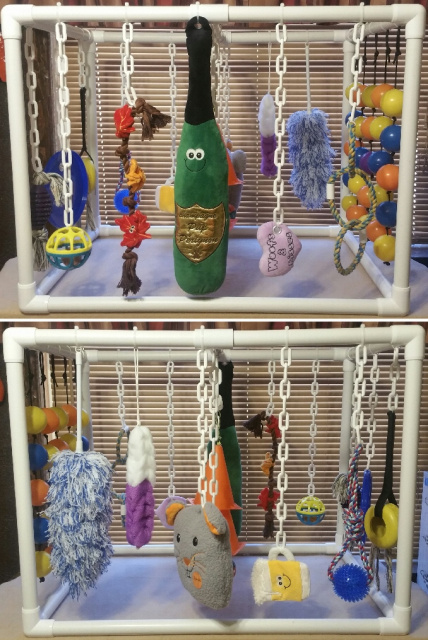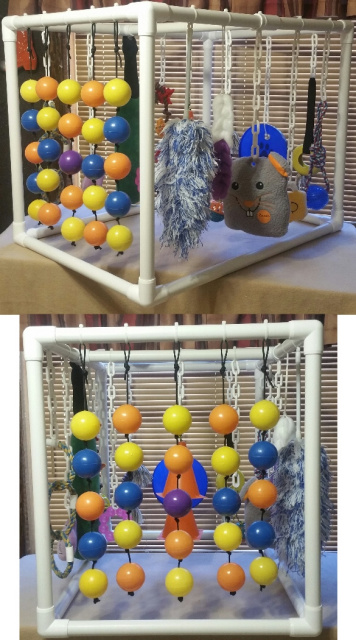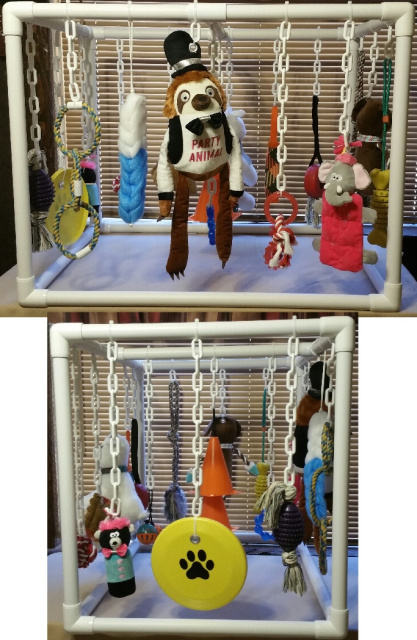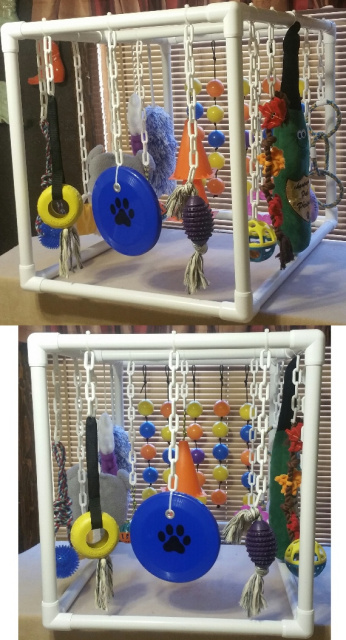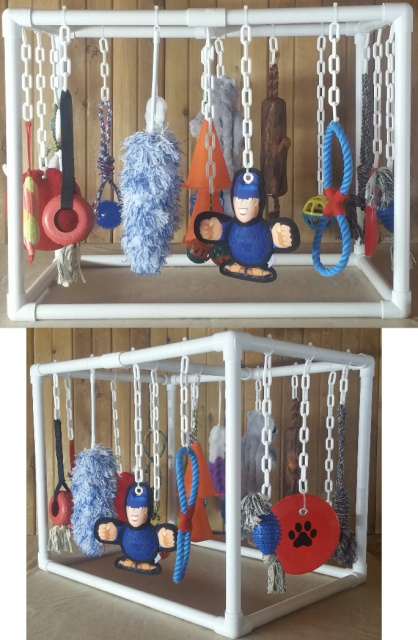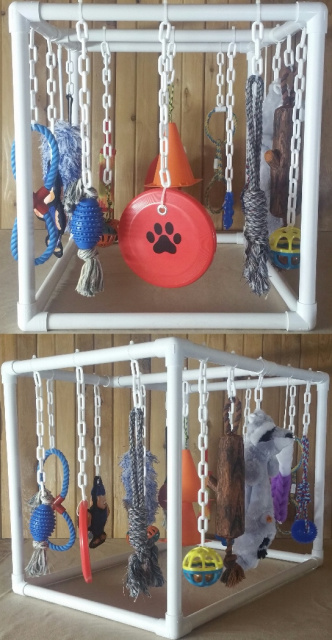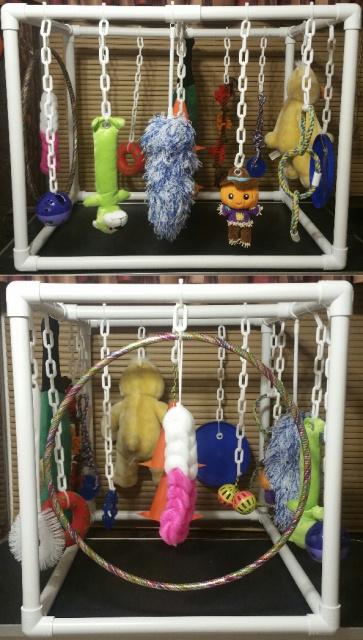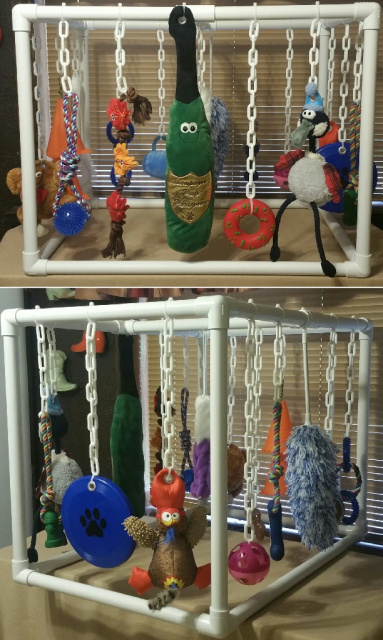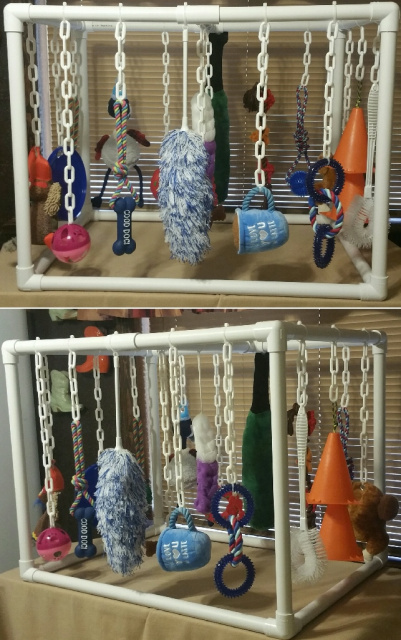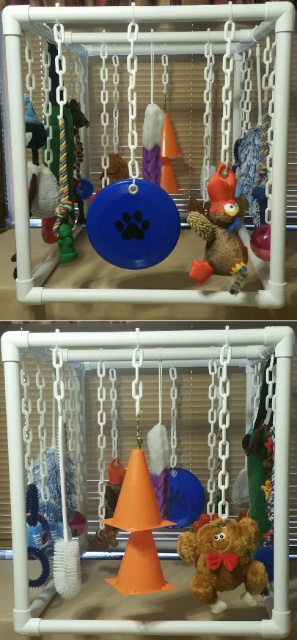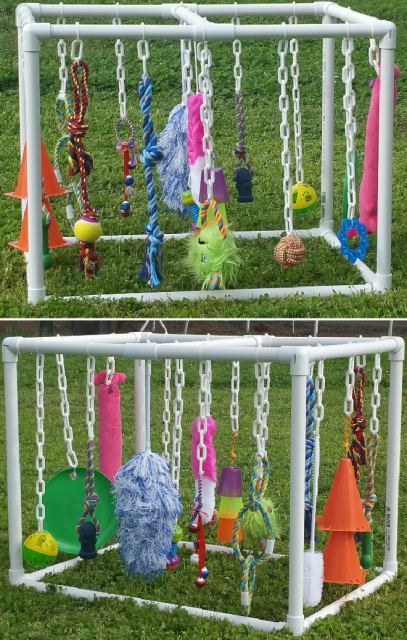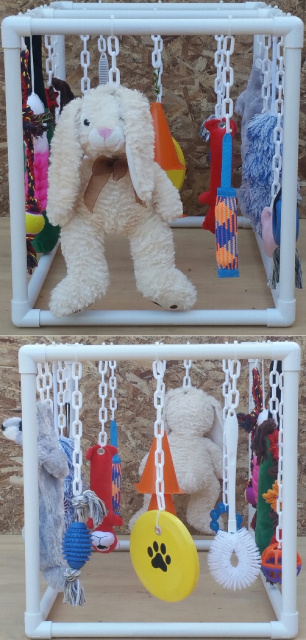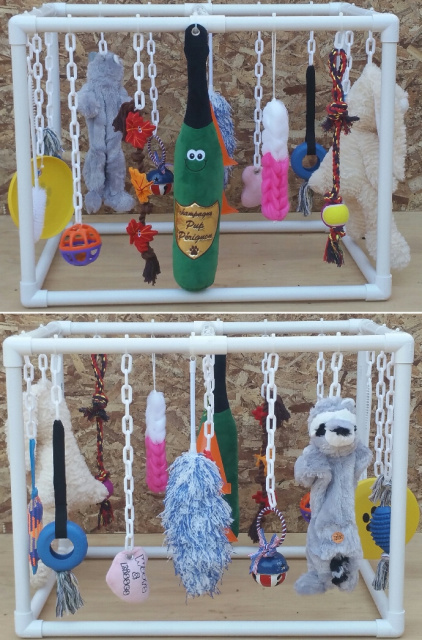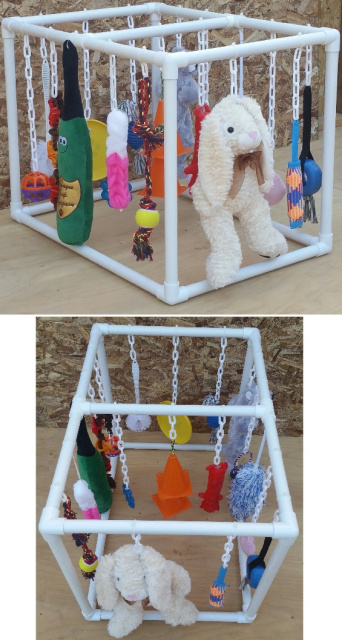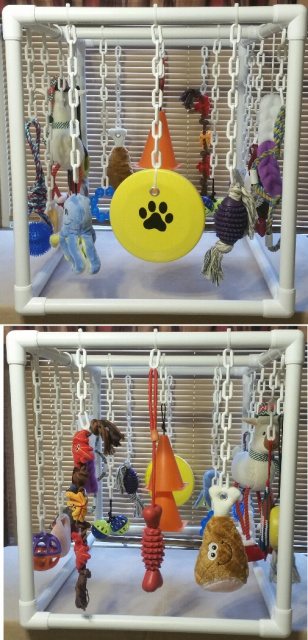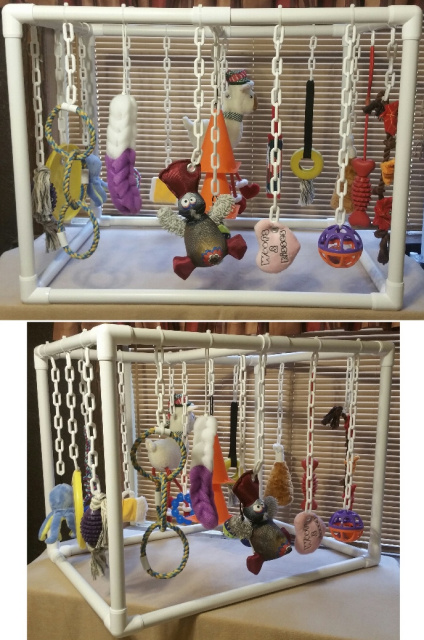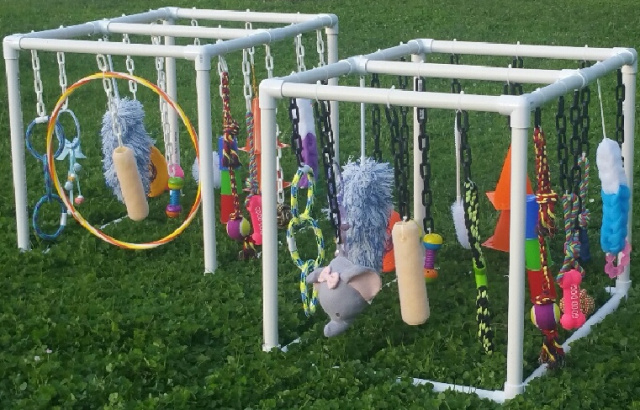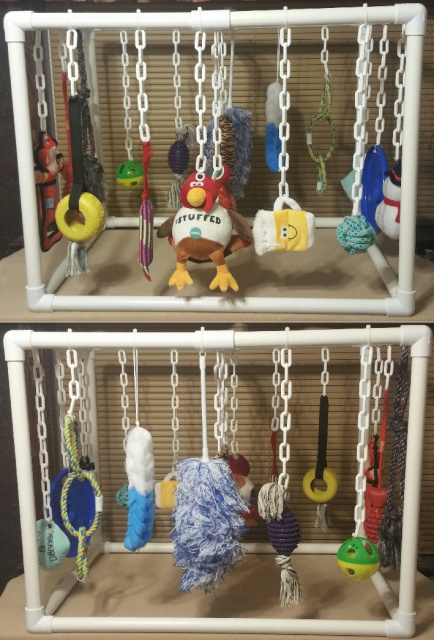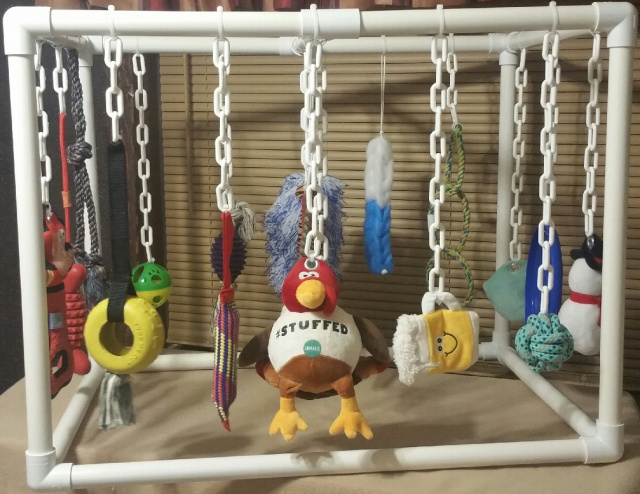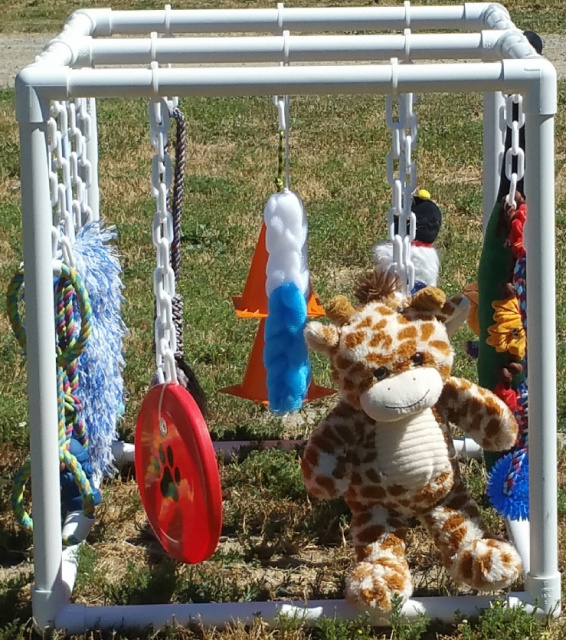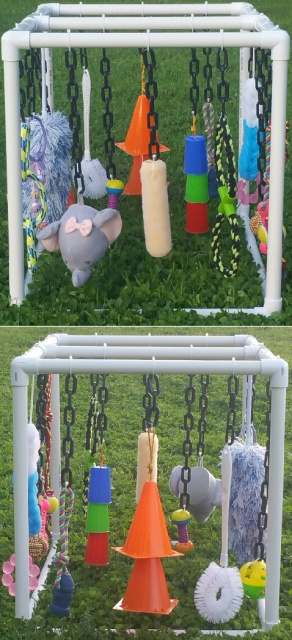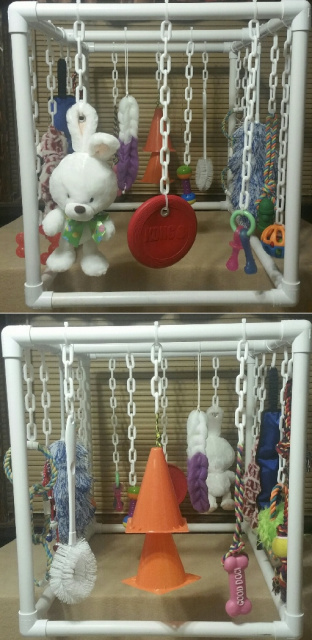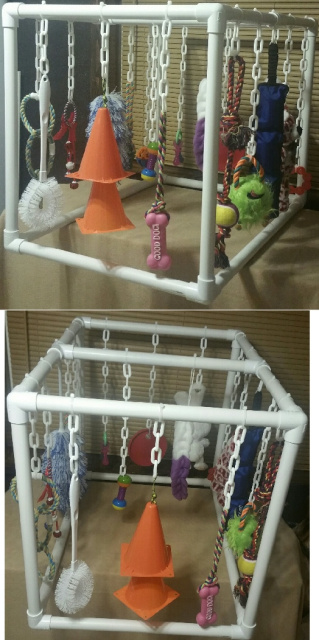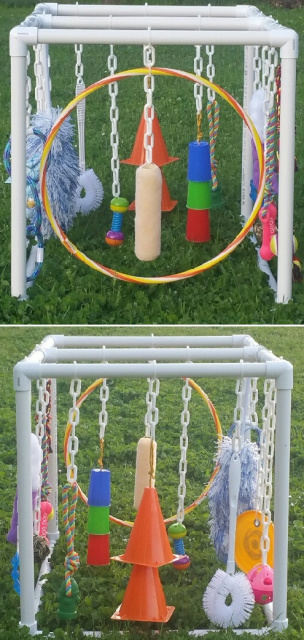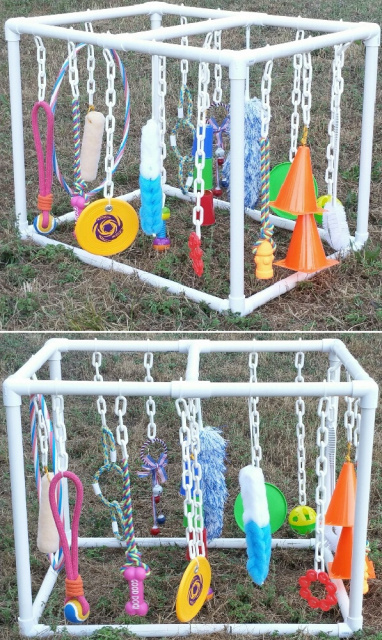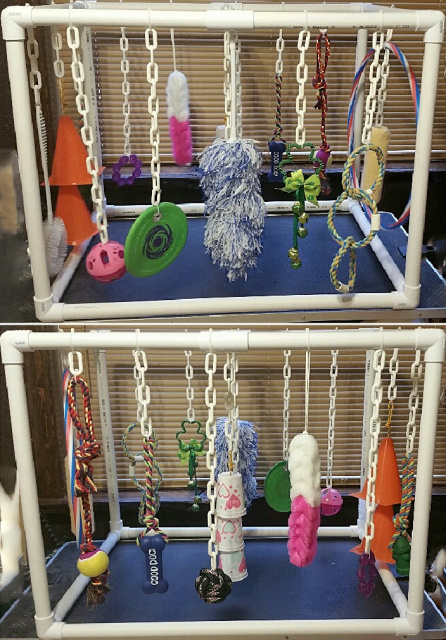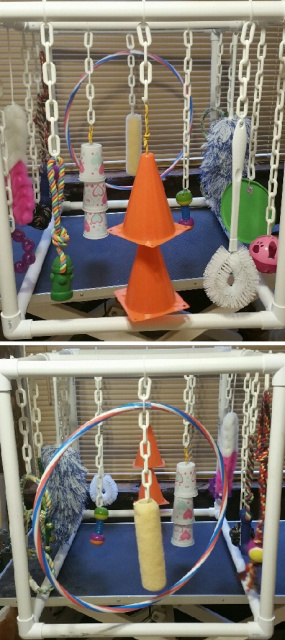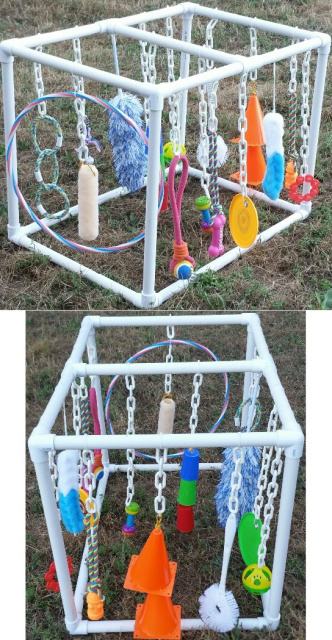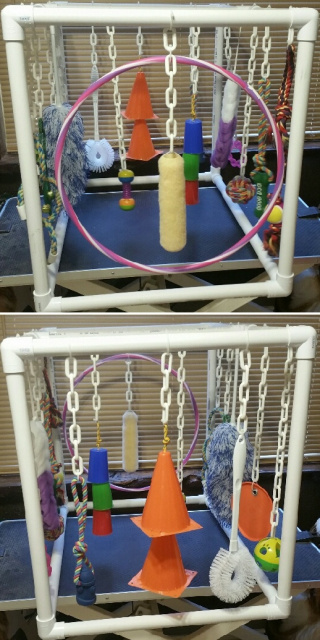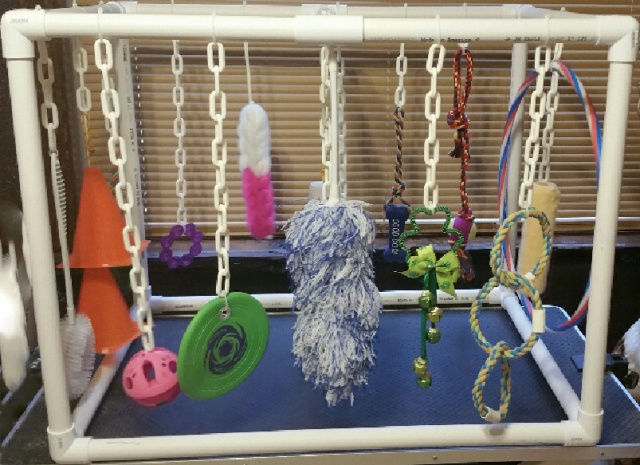 The following Puppy Toy Gym was a Custom Special Order due to the color of the pipe and the Size was customized due to the availability of the length the pipe is made in.
This is a Very Expensive Option due to the colored pipe.
We are Happy to Accomodate Special Orders such as this on a case by case base but Please be prepared that the order and working time is usually 3-4 weeks.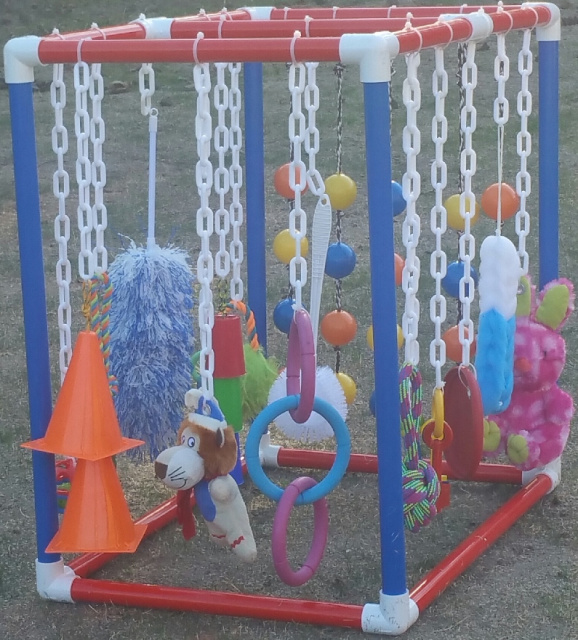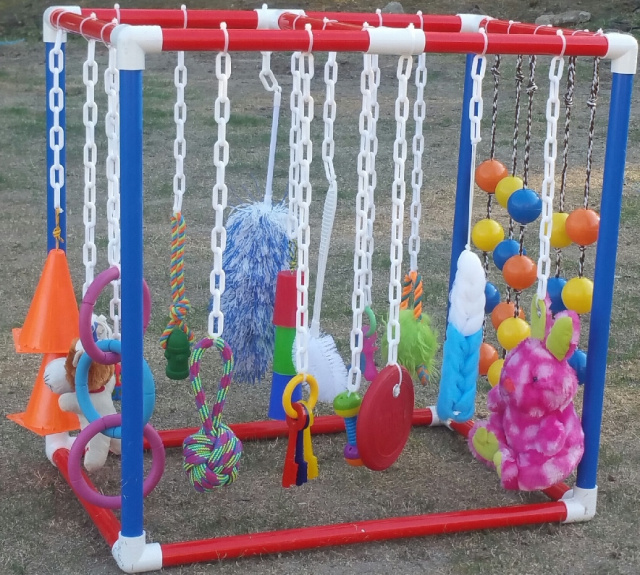 **If you have added one of our Puppy Toy Gyms to your household/kennel, Please feel free to send us photos and/or videos of your puppies enjoying it and we will be happy to post them here on the website for the world to see**